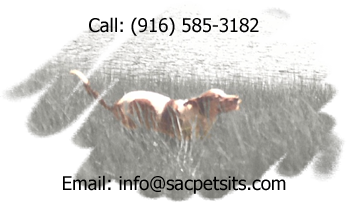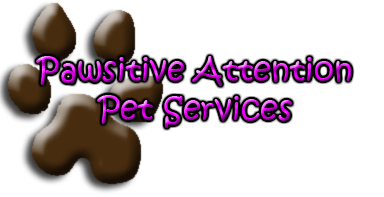 Q. What are your rates?

A. Pet sitting rates vary from client to client. Your pet sitting cost is determined based on time required and distance traveled. Quoted pet sitter rates include travel costs, the pet sitter's time, pet care, care of your home, and any other agreed upon services; you will never find a hidden fee in our pet sitting rates. We never charge extra for giving medications, including sub-qs or insulin. We are happy to give you a pet sitting rate quote over the phone before scheduling the free initial consultation. Please call us at (916) 585-3182 to get your personalized pet sitting rate quote today!

Q. Do you charge extra for holiday bookings?

A. There is no additional charge for service during a major holiday however, bookings made for November 15th - December 31st must be paid for at the time of booking to secure your reservation. Visits on Thanksgiving Day, the day after Thanksgiving (Black Friday), December 24th, 25th and 31st may be shortened to 20 minutes to accommodate for the additional clients we see during holidays and allow our sitters time for their holiday activities. If you require a 30 minute (or longer) visit on these dates, there will be an additional charge of $15 for each of those visits.

Q. Do you require proof of vaccinations?

A. Yes, but due to the in-home care aspect of sitting, we can be more flexible than a
kennel. We do accept titers. Please do let us know if you have any specific concerns.

Q. What is a "licensed" pet sitter mean?

A. Petsitting/Pet Sitting is not licensed by a governing board in California. When a pet sitter
claims to be "licensed", therefore, he/she is referring to a basic business operation license.
For sitters based within the city limits of Sacramento, that would be a Home Occupation
Permit and the Business Tax License. Sitters based in the unincorporated areas of
Sacramento County have different business licensing requirements. These licenses permit
the holder to run a business out of their home and pay taxes on that business but do
not regulate or oversee the business of petsitting/pet sitting in any other way.

Q. My cat is on a raw diet. Do you feed raw?
A. Sits are designed to keep your pet's habits as close to normal as possible. Whether
you feed raw, kibble, canned, or homemade, we will feed your pets the same way that
you do (with one exception - we will NOT feed cats a vegan or vegetarian diet due to the
health risks involved.)

Q. I need to catch a flight at 5am and don't have time to stop by the store to pick up
my cat's food before I go. What should I do?

A. We are happy to pick up the food for you. You would be charged the cost of the
food plus a small delivery charge.

Q. Do you know pet CPR?

A. Yes! I will be happy to show you my American Red Cross Pet First Aid &CPR
certification cards upon our initial visit.

Q. Has your background been checked?

A. Yes it has! My fingerprints are on file with the DOJ through Live Scan from my former status as a CA registered Process Server.

Q. My partner and I feel it's important to find a pet sitter that is comfortable with the
LGBTQAI community. Are you okay with that?

A. I understand your concerns. I value my clients (and people in general) from a variety of backgrounds and am a supporter of equality for all.

Q. My cat is in heat, can you provide pet care for her?

A. We will not provide care for intact female cats or intact male cats in a mutli-cat household.

Q. Do you have any minimum visit requirements?

A. Healthy adult cats should be seen a minimum of once every other day. This is especially important with male cats which are prone to urinary blockages as death can occur in as little as 72 hours.

Rabbits, Guinea Pigs, and Chinchillas should have a minimum of 1 visit per day to ensure their need for a constant supply of clean fresh hay is met and to monitor for incidents of stasis.

Reptiles, birds, fish, and other pets: please call to discuss your pet's needs.

Q. What are the pros and cons of using a pet sitter vs. a boarding facility?

A. There are advantages and disadvantages to both. Please go here to see some of those
differences. Generally speaking, pets that are able to be left home alone (not those that
suffer from separation anxiety) do well with pet sitters. Pets that cannot be left alone
for any length of time often are a better fit for a facility. Cage-free facilities are only
an option for dogs that can pass the facilities' temperament test (dogs that are social and happy with other dogs).


Call (916) 585-3182 for your FREE consultation
Copyright © 2010 by Pawsitive Attention Pet Services providing Pet Sitting and more in Sacramento, CA (916) 585-3182
Frequently Asked Questions